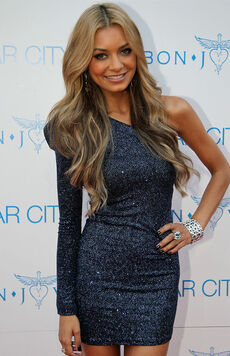 Havana Brown or DJ Havana Brown (born Angelique Meunier; 14 February 1985) is an Australian DJ, singer and dancer. In 2008, Brown signed with Island Records Australia as a DJ for the record company, and began releasing her Crave compilation album series, which featured remixes of songs from other artists. This led to her touring with international artists, including Britney Spears, Rihanna, the Pussycat Dolls, Chris Brown and Enrique Iglesias. Brown made her debut as a recording artist in 2011, with the single "We Run the Night", which reached number five on the Australian ARIA Singles Chart and was certified triple platinum by the Australian Recording Industry Association (ARIA). The single earned Brown two ARIA Music Award nominations for Breakthrough Artist Single and Highest Selling Single. Following this success, Brown signed a US record deal with Universal Republic via producer RedOne's label 2101 Records. A remix of "We Run the Night", featuring American rapper Pitbull, was produced by RedOne and released in the United States. It reached number one on the US Hot Dance Club Songs chart and number 26 on the US Billboard Hot 100 chart. The remix was included on Brown's first EP, When the Lights Go Out, which was released in July 2012.
Brown was born in Melbourne, Australia to Mauritian parents that came from the island of Rodrigues. Before she started to DJ, she was signed to a record label in the United Kingdom with a group called Fishbowl. They were about to release their first single under the label, but the group fell apart and Brown turned to DJing. She then began performing at small venues around Melbourne and worked with promoters around Australia.

She and Iggy Azalea supported Rita on her Ora tour.